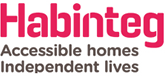 Habinteg has championed inclusion for over 40 years, providing and promoting accessible homes and neighbourhoods for everyone. We're proud to promote inclusive design in housing standards, challenge negative social attitudes and promote the rights of disabled people in line with the social model of disability.
I-stay@home
Designing for inclusion. Supporting older and disabled people with information communication technology.
Our inspirational achievement features our work on the I-stay@home project (2011-15) - a pan-European investigation into how information communication technology (ICT) can support older and disabled people with some of the challenges associated with ageing and independent living.
Introduction
Habinteg represented the UK and played a leading role in the project, coming together with eight other housing associations, two universities and four tech companies from across France, Germany, the Netherlands and Belgium to undertake this research.
Surveying tenants
We initially interviewed a selection of our tenants to find out more about their unmet needs, identified technologies to match these needs and then installed the selected products in their homes to pilot them over the course of a year.
Research from this phase of the investigation of the I-stay@home project found that disabled and older people are keen to use new technology to help them lead more independent lives, as long as the products are affordable and user friendly. The survey revealed that 60% of people surveyed were open to using new technologies in their home.

Our tenants informed us that their most significant problems were with mobility, domestic activities and safety/security. Therefore, we chose technologies dealing specifically with these issues. Throughout the year-long piloting phase of the study, our staff members were on call to support tenants.
Our tenants tested:
A 10 inch Samsung Galaxy tablet computer. The touch screen interface was easy to use, and allowed many tenants who were not regular internet users to become so - purchase price around £200
Lightwave wireless light switches and power points allowed tenants to control lighting and power from anywhere in the home using their tablet computers - purchase price between £350 - £620 depending on features selected plus installation
The UCam247 wireless camera we installed at tenants' front doors allowed them to use their tablets to see who was calling, before deciding to answer the door - purchase price around £130
iRobot Roomba hoovers gave tenants the ability to clean their homes without having to ask for help from anyone else - purchase price around £260
What our tenants told us
At the end of the pilot, tenants were convinced by the positive impacts of the technology. 95% of participants across Europe said they were satisfied with the technology. 76% of people surveyed said that the technology had improved their quality of life.
In terms of the key findings, it was clear that older and disabled people are open to using ICT solutions to help with everyday living. In addition there is already a developed, open and accessible marketplace than can meet their needs with relatively affordable products available that can significantly improve independence and quality of life.
However, housing providers observed that households with access to support (whether it was friends, family, neighbours or carers) to help tenants use ICT benefited significantly more than those without support. In short, ICT doesn't completely replace current methods of support but can supplement and work with them to improve quality of life.
Moving forward
Habinteg is keen to share our experiences and knowledge gained from working on the I-stay@home project with other housing providers. The future possibilities for assisted technology and ICT solutions are endless and the cost implications are not preclusive and will reduce as technology becomes more mainstream.
We would like to thank our tenants for taking part, providing the project with such rich evidence. Technology will play an increasingly important role in the housing sector and this evidence could play a role in the development of programmes for older and disabled people.
The I-stay@home project concluded in June 2015 and we are now in the process of disseminating the findings.
"Being able to do things by myself, it's a boost. I don't like asking people for help, and it makes you feel - pardon the term - more 'normal'. Being able to clean up myself, or even turn off the lights. It means a lot to me."