"With a rapidly ageing population we know that the housing market has just not kept pace with the demand for aspirational homes and inspirational places for people in later life.

The significant lack of suitable retirement accommodation, coupled with changing demographics, will only exacerbate the lack of supply.

To help overcome this issue and meet the needs of our older generation, we are developing a portfolio specialist retirement business."

Jane Barker,
Managing Director - Places for People Retirement
Liberty Retirement Living
Creating aspirational homes and inspirational places
Liberty Retirement Living was launched by Places for People, in partnership with Octopus Healthcare, with a £200m fund to support delivery of a minimum of five new retirement villages each year, over an initial 5-year period.
Liberty Retirement Living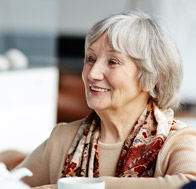 Development has already begun. Liberty plans to deliver five villages comprising around 500 homes in the first year, with planning permission already received or pending.
The homes will provide residents with contemporary, comfortable accommodation in a village environment, with a range of lifestyle services and discreet care available.
Liberty will offer outstanding services for the over-55s, creating an environment that is vibrant, fun, caring and fully integrated with the local community.
Technological innovation
The generously proportioned homes come with modern kitchens and bathrooms, and an integrated in-home technology package.
The unique smart technology system puts residents in complete control of their homes as well as connecting them to village services, making the lives of residents independent and fulfilling.
Liberty developed its exclusive in-home technology system to enable convenient control over such things as door entry; contacting the concierge; adjusting temperature, lighting, curtains and blinds; contacting support services; accessing the internet, email, telephone and Skype; environmental and personal monitoring; care planning and staff rostering; and managing internet-enabled devices.
Retirement villages - from Inverness to Cornwall
The first Liberty retirement villages will be in Stow-on-the-Wold, Buckingham, Poundbury, Chester and Chapelton, near Aberdeen. Places for People group housebuilder, ZeroC is already active on site at Poundbury and Chapelton helping to create new towns in partnership with the Duchy of Cornwall and the Duke of Fife respectively. Work will begin on the first Liberty village in the summer of 2017.
As well as setting high standards with each home, there will be a range of first-class facilities available in the village centres, such as brasseries, lounges and hobby/activity rooms. Thoughtfully designed external spaces include patios or balconies for all homes, a variety of gardening spaces and exercise trails with tailored fitness equipment.
Liberty Retirement Living's development at Poundbury will comprise 73 apartments and bungalows
Private rentals
Places for People acquired Girlings Retirement Rentals in 2014, and now the company, which was reaccredited by Investors in People this year, lets and manages approximately 2,500 properties in over 600 retirement developments throughout England, Scotland and Wales.
Its portfolio continues to grow, achieving a profit of 12% on turnover in 2016-17. It increased the number of completed lets by 53 compared to the previous year, as well as embedding new processes in response to the many recent changes in legislation, including selective licensing, right to rent and Rent Smart Wales.
Weycombe House in Haslemere, Surrey, is part of Girlings' new Diamond Collection