Housing in later life: planning ahead for specialist housing for older people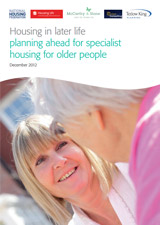 This toolkit spells out the processes that could help the HAPPI objectives to be met - with particular emphasis on the role of local planning authorities. Published jointly by the National Housing Federation, Tetlow King Planning, McCarthy & Stone, Contact Consulting and the Housing LIN, it has been designed for local planners and commissioners to use when planning for specialist housing for older people as part of an overall local strategy on older people's housing, care and support.
The toolkit encourages local authorities to join up planning, housing and social care policy, both in the collection of evidence and the development of specialist housing for older people. It suggests a number of tools to help officers plan for this form of housing in their local policies, strategies, guidance and associated conditions as part of their local plans.